PANCHALINGESWAR
Valley of Mystique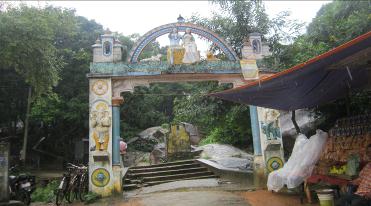 This site is developed, hosted and owned by Dr.Abhay Kumar Pati, CEO BEST NUTRITION Inc, USA and Biotechayur, Seragargh, Balasore, Odisha, India.
We welcome local and overseas guests visiting Biotechayur, please take a short trip to this serene atmosphere of Panchalingeswar, where a large variety of medicinal plants can be identified.
Location and Introduction
Ensconced in the serene and splendid green environs of Nilgiri, the five lingams at Panchalingeswar, the revered venue for numerous devotees, are bathed by the iridescent and sparkling waters of a perennial stream. Legend has it that these lingams were installed in this beautiful abode by King Banasura himself, because of the serenity and beauty of its surrounding environs. A place 32 km from Balasore on a hilltop surrounded with the beauty of the woods. A place of choice of nature lovers and deep thinkers.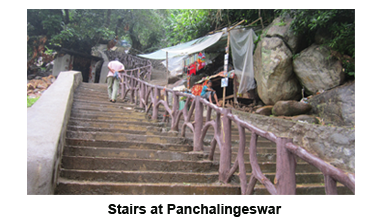 The Panchalingeswar is situated over the hills under the Devgiri range (part of Nilgiri). Monstrous rocks are scattered all over the hills and the silence of the forest prevails the beauty of that area. To reach the top of the auspicious heavenly abode of Lord Shiva,one must climb the 260 stairs up the hill. On both sides of the stairs,rocks of different sizes can be seen. Water from the falls on the hilltop is trickling down under the rocks. People used to enjoy bathing in the flowing water between these rocks. This is a unique place where one can find five Shiva lingas. Nilgiri kings found those lingas long ago. Panchalingeswar is actually part of the Kuldiha forest. Kuldiha is called an Elephant Sanctuary.Many animals,including elephants, bison, bears, deers, and panthers are found in this forest.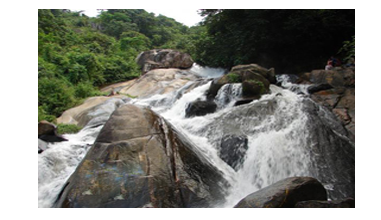 On top of the Panchalingeswar temple, there is an another temple of Banadevi. There is a small lake In front of that temple.According to the local people, this pond is not connected to any external water flows but is self-oozing.Sitting near the pond, you can clearly see the bubbles coming from the bottom of the lake.On the top of the hill, there are many small waterfalls which are mesmerizing for the visitors.